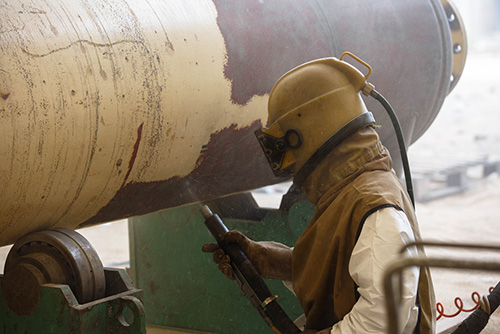 As your machinery endures the rough and tumble of everyday operation, the façade can be affected even deeper than just the coat of paint on it. Before we apply electrostatic paint to refinish it, we also work to sandblast these imperfections away and restore a clean, smooth surface.
More than just for aesthetic benefit, however sandblasting in New Hampshire ensures a quality paint finish that's smooth, blemish/debris-free and better receptive to the painting process. We can perform sandblasting to all levels of specification and take pride in setting the tone for a beautiful electrostatic paint job to come.
We utilize state of the art equipment to achieve a refined degree of sandblasting on your machinery, to ensure it's completely free of debris, without harming the composure of the metal itself. This process takes skill and precision to execute, which is why our team is extensively trained to deliver superior results.
No matter to what depth or degree you need sandblasting service in New Hampshire, ARC Electrostatic Painting is pleased to provide it. Our team is able to provide rapid turnaround and pristine results no matter the dimensions or scope of the equipment you need sandblasted.
For more information about our sandblasting capabilities or to inquire about a quote or estimate on your specific sandblasting project, get in touch with us today by calling 603-483-8681. We're happy to provide you with superior results, through and through.